Day 8: Rest day in Pheriche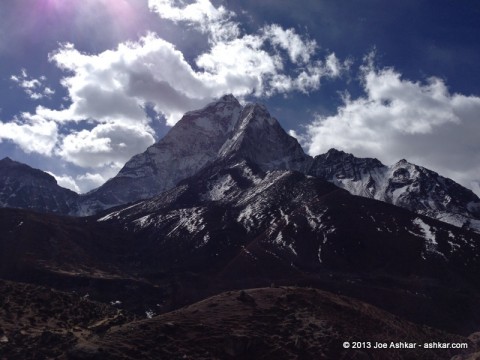 Today is a rest day in Pheriche. Rest Day doesn't mean we just sit around and hangout; it's more to the fact that we're not moving from one spot to another.
After the daily 7:30 AM breakfast, we set off on a nice acclimatization hike climbing 588 vertical meters up to 4828 m, 10 meters higher than Mont Blanc, Western Europe's highest peak. Despite being at that altitude, we were still dwarfed by the many surrounding Himalayan peaks.
Along the way we passed several Gompas & Chortens with prayer flags flopping in the air due t0 high winds along the ridges.
We returned in time for lunch and later in the afternoon, we visited the Himalayan Rescue Association for a talk on high altitude physiology.
Next Post: Day 9: Pheriche to Lobuche
Previous Post: Day 7: Deboche to Pheriche