Day 7: Deboche to Pheriche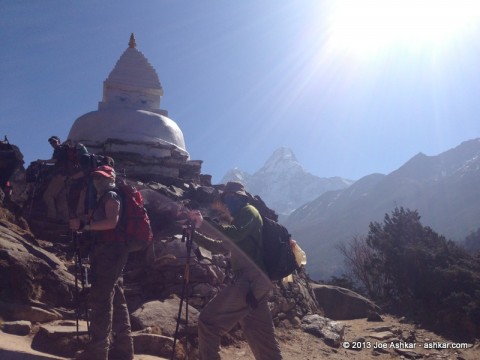 Broke off from the traditional group breakfast this morning and hiked back up to the Tengboche Bakery for Cappuccino and some delicious pastries. The uphill hike was well worth it. We rejoined the group in time for the departure towards Pheriche.
Our first stop was at Pangboche (3930 m) at Lama Geshe's house. Lama Geshe in the second highest ranked Lama in the Khumbu. All climbers, guides and Sherpas on our Everest 2013 expedition met with Lama Geshe individually to receive the traditional buddhist blessing given for safe passage and return.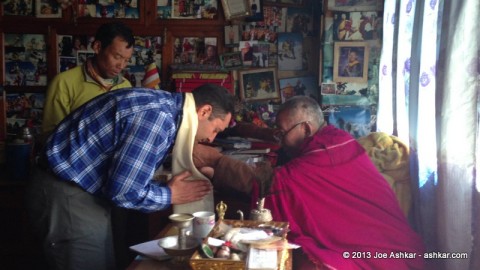 During the spiritual ceremony, we each had our Khada blessed and placed around our neck. We were also given a special orange string necklace that we're not supposed to take off until the end of the expedition. Lastly, Lama Geshe gave us an important prayer card with individually dedicated blessings to take to the summit of Everest.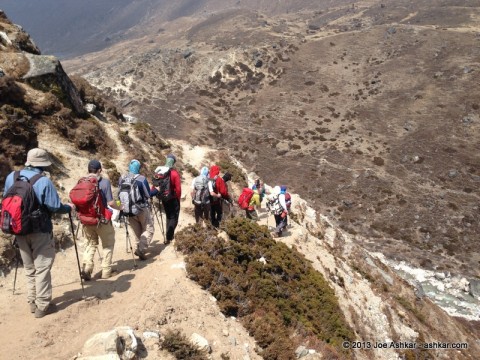 After visiting with Lama Geshe, we left Pangboche and continued our hike up the valley with majestic views of Ama Dablam and other surrounding peaks. On our way, we passed many Chortens and Stupas as we followed the river. On the narrow and exposed trail, we got caught in Himalayan traffic jam caused by a caravan of Zopkyos and Yaks.
We stopped in the small village of Shomare (4010 m) for lunch and continued climbing up the scenic and rocky trail for 1.5 hours to our destination in Pheriche (4240 m).
Next Post: Day 8: Rest day in Pheriche
Previous Post: Day 6: Khumjung to Tengboche to Deboche