Day 6: Khumjung to Tengboche to Deboche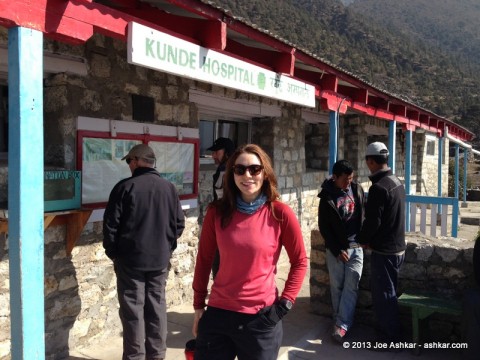 Today was a pretty spectacular one. We started the day with a visit to the Hillary hospital in Khunde, about a 30-minute roundtrip walk from our Tea House in Khumjung.
Upon our exit out of the village of Khumjung, I stopped by the local bakery for a cappuccino and apple strudel and later caught up with the group at their next rest stop. The trail descended from 3840 m down to the river bed in the town of Phungi Thanga at 3250 m.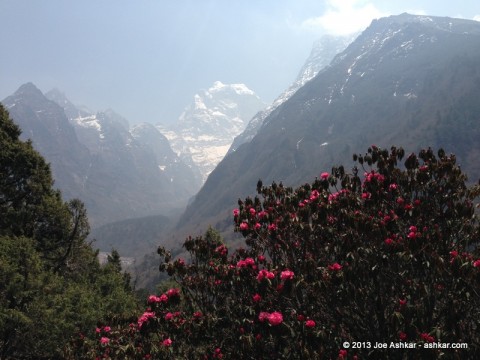 We enjoyed a very early lunch at 11 am and went back on the trail. The climb out of Phungi Thanga was a steep one as we had to regain all the lost altitude. The trail up to Tengboche was nothing short of spectacular. We climbed through the rhododendron forest with many trees in full bloom. We were also treated to a great view of Ama Dablam.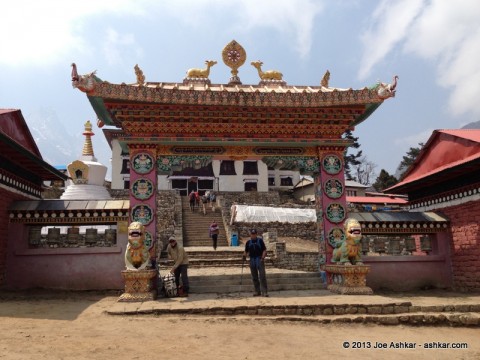 Nearly two hours later we walked into the village of Tengboche, home to the famous Monastery and the highest bakery in the world at 3867 m. We took a quick tour of the Tengboche Monastery and decided to come back at 3:00 PM to witness the Monks praying and chanting. We headed over to the famous bakery and the dessert choices were overwhelming. I quickly decided on a cappuccino for my drink but couldn't choose between the chocolate brownie, apple pie, mocha chocolate cake or rum balls. I chose to sample the brownie, apple pie and rum ball and added a hot chocolate as my second drink.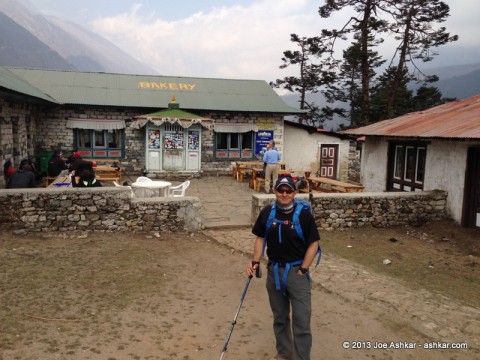 We went back to the Monastery and waited for the Monks to show. Unlike two days ago at the Thame Monastery where we we treated to a symphony of horns and drums accompanied by prayer chants, there were only four Monks praying without any sound accompaniment.
After the ceremony, we descended to the village of Deboche (3820 m) and checked in at the Rivendell lodge for the night.
Next Post: Day 7: Deboche to Pheriche
Previous Post: Day 5: Thame to Khumjung