Day 13: Skills and Techniques Review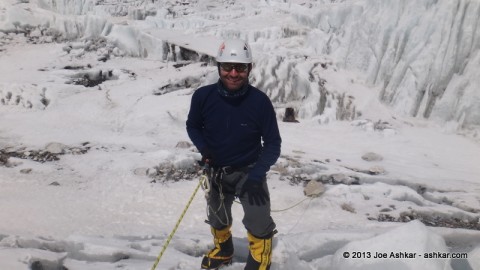 Today was a leisurely day at Base Camp as we continue to acclimatize to the high altitude of 5334 meters. To keep the legs fresh and the blood flowing, we took a short hike to the edge of the  reviewed some basic skills such as using crampons on hard ice and using ascenders (also known as jumars) to go up and down some makeshift fixed lines. These tools are extremely critical to our climb of Mt. Everest.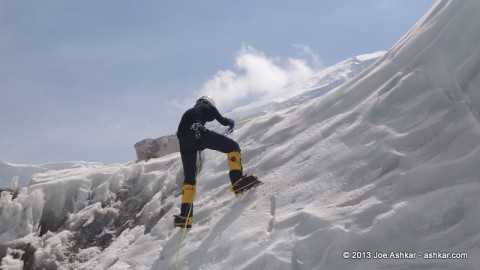 We ventured onto the ice field near our camp and walked around several types of hill practicing efficient ascending and descending crampon techniques. We later switched to ascending a variety of fixed lines ranging from simple climbs to ice walls of 70-75 degrees inclines. We also practiced repelling down the same fixed lines.
In the afternoon, our guides setup some ladders to practice crossing them with our boots and crampons. Efficient and proper crossing of ladders is critical to our success in the challenging Khumbu Ice Fall. Altough it started snowing during ladder practice, everyone on the team did really well.
Next Post: Day 14: Puja Day
Previous Post: Day 12: Rest Day at Base Camp