Day 12: Rest Day at Base Camp
We spent most of our morning continuing to unpack and getting settled into our new environment. Shortly thereafter, I walked around the humongous Base Camp and visited with a few friends. It took about 45 minutes to walk from one end of BC to another.
I also stopped by the HRA (Himalayan Rescue Association) tent, basically the Medical Clinic at Base Camp.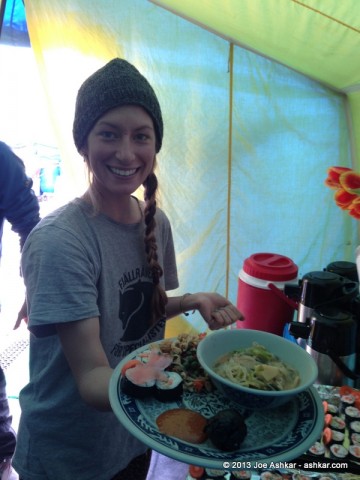 Upon returning to our camp in time for lunch, I found out our wonderful cook Alli cooked up an Asian Feast. On the menu was: Sushi rolls (Salmon, Tuna & Vegetable), Nori Balls, Asian Slaw Salad along with a very flavorful Thai Soup.
After lunch, we had our first team meeting to review and fine tune our gear, and discuss the upcoming schedule.
We had the rest of the afternoon off, enjoyed yet another hearty dinner and topped out the night with a movie in the dining tent.
Next Post: Day 13: Skills and Techniques Review
Previous Post: Day 11: Lobuche to Everest Base Camp