K2: Arrived in Concordia, one day away from K2BC
We are getting closer to K2 Base Camp. Knowing today as a short one we woke up late around 6:30 AM, ate a good breakfast and headed towards Concordia Camp. We made the trek in less than three hours. Travel on the Baltoro Glacier has actually gotten easier as we climbed in altitude. The endless ups and downs on the moraine are now well spread out making for some nice gradual climbing. The uber large boulder and rocks have now tranformed into smaller and more manageable terrain. In front of us was the imposing Gasherbrum IV, a very technical mountain and almost an 8000er at 7,925 meters.
As we arrived in Concordia, there it was! A magical moment! Clear blue skies and fantastic weather allowed for some amazing views of K2 and Broad Peak. I have seen many pictures and videos from that same spot and I cannot possibly describe the feeling, being here and experiencing it. I was like a kid in a candy store pumped up with tons of sugar. I couldn't stop smiling and being in awe of this amazing mountain.
I quickly grabbed by tent and set it up in the best possible spot with a window view of K2 & Broad Peak. Concordia camp is an amazing one and one of the best I've been to. You're surrounded in a 360 views of beautiful yet rugged and tough peaks, many of which are yet to be climbed.
Tomorrow we head out to K2 Base Camp (finally) and get settled in to start our climb.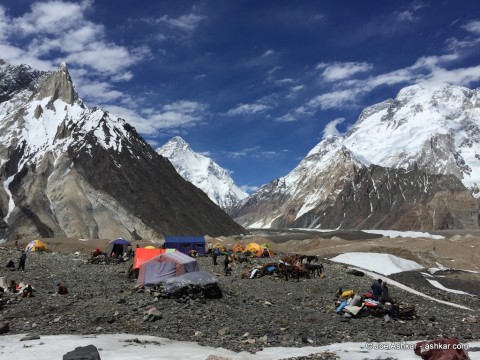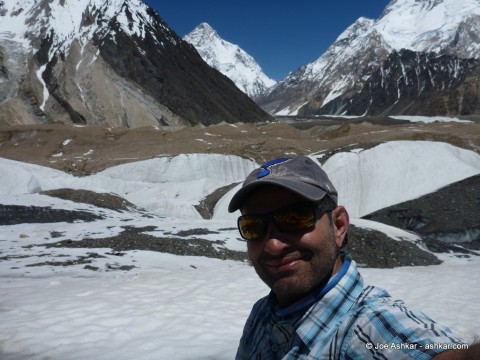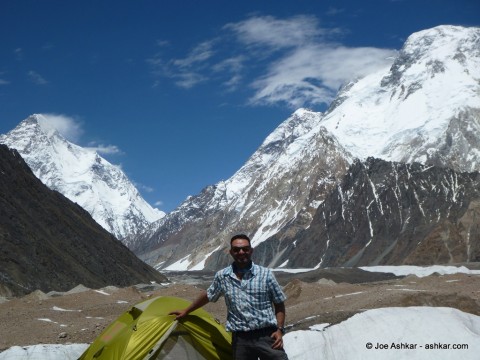 Next Post: K2: Arrived at K2 Base Camp
Previous Post: K2: Urdukas to Goro 2