Days 19, 20, 21, 22: Recovery & Back at EBC.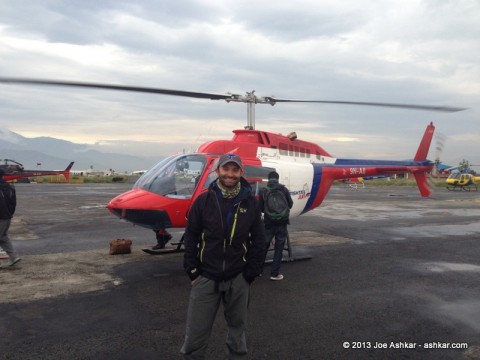 It's been an interesting 4 days. Since my condition wasn't improving at Base Camp, I made the decision to drop down, way down to Lukla and KTM in order to take care of my health. Battling a Sinus Infection at altitude is not a good thing.
After only 24 hours, I felt the antibiotics working their magic and my nasty congestion half of what it was. My antibiotics course is for the next 7 days.
My condition continued to improve that I'm now almost at 100%. Today (April 24), I have elected to take the Helicopter back to Everest Base Camp. We left early in the morning and by 10:30 AM, I was back in the friendly confines of EBC.
Going from an altitude of 1,400 meters (4,600 ft) up to our location at the top end of Base Camp at an altitude of 5,400 meters (17,800 ft) in less than an hour is not always the smartest thing to do. Although I was still acclimatized, upon touching down and walking around camp, I felt a little lightheaded.
I'm gonna take it easy this afternoon and let my head and body re-adjust to the altitude.
The rest of the team comes down from the first rotation tomorrow and three others are on their way back up from the lower valley, arriving in the next two days.
It's good to be back and feeling normal again.
Next Post: Days 23, 24, 25: First Rotation, Rest & Adventures in the Icefall
Previous Post: Day 18: Climbing up to Camp 1