Day 4: Namche to Thame
We started our day with a private mini Puja ceremony at the Panorama Lodge. Each member of the expedition climbing team received a prayer blessing by flicking some rice wine called "Chang" in the air and taking a small sip. A blessed scarf named "Khada" was later put around our neck.
After the ceremony, we walked out through the streets of Namche where we witnessed the Saturday morning open market; a very interesting sight.
Namche is the capital of the Khumbu and is a central trading point where merchants come from all corners of the Khumbu and as far as Tibet to sell their goods. Villagers make their weekly trek to Namche Bazar to buy goods. You can practically find anything you want on that Saturday morning.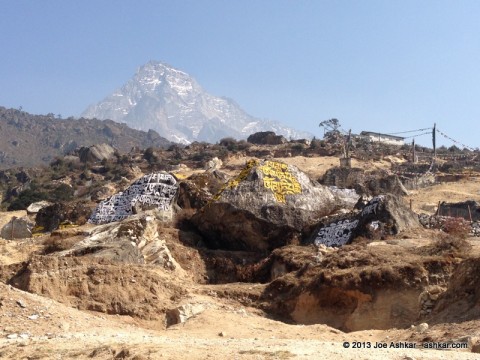 We climbed out of Namche and headed towards the village of Thamo, situated at about the halfway point to our destination village of Thame, the village where our Sirdar (lead Sherpa) Lakpa Rita grew up. 
We hiked through a dense green forest of Cypress trees following a river gorge surrounded by giant peaks. Along the way, we encountered several Stupas and many prayer paintings on rock walls.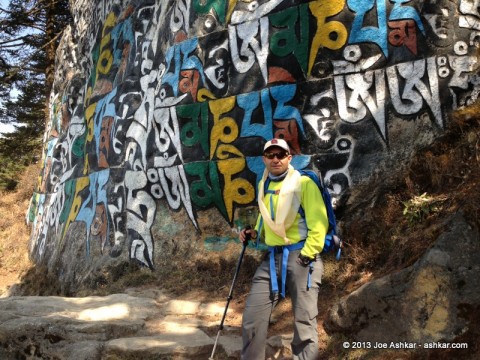 Upon our arrival in Thame, we were greeted with warm drinks and snacks. After a short resting period, we took an acclimatization hike up a steep hill to the Thame Monastery where we were treated to an unbelievably spiritual ceremony as the local Monks prayed to the sounds of horns and drums.
We then returned to our Tea House for dinner and early bedtime.
Next Post: Day 5: Thame to Khumjung
Previous Post: Day 3: Rest Day in Namche