Elbrus Day 9 – Tuesday July 17, 2012
We awoke bright and early at 2:00 AM this morning to the sound of "reveille" via harmonica loudly performed by our esteemed expedition leader Vern Tejas. After a quick breakfast full of carbohydrates, we strapped on our crampons, switched on our head-lamps and began the long journey to the Summit in the cold icy darkness promptly at 3:30 AM.
As we progressed above the Pastukov rocks at nearly 16,500ft/5029m, we were treated to an amazing view of the sunrise over the eastern Caucasus mountain range including a breathtaking view of the shadown of Mt. Elbrus projected over the valley.
As we continued to move up the mountain, the slope kept getting steeper and steeper, the air thinner and thinner, making footing more treacherous and breathing increasingly difficult, hence the importance of maintaining complete concentration while using the all-important technique of  "pressure breathing".
Four hours later, we took one of our very few and short rest breaks to replenish calories and rehydrate at the "saddle" point which is roughly the half-way point to the summit.
After our much needed rest break, we continued on along a steeper, icier and very narrow ridge leading the way to the west Summit, the top of Europe. A missed step or a trip on that ridge and you would drop over a thousand feet into the rocks below resulting in major injury or death.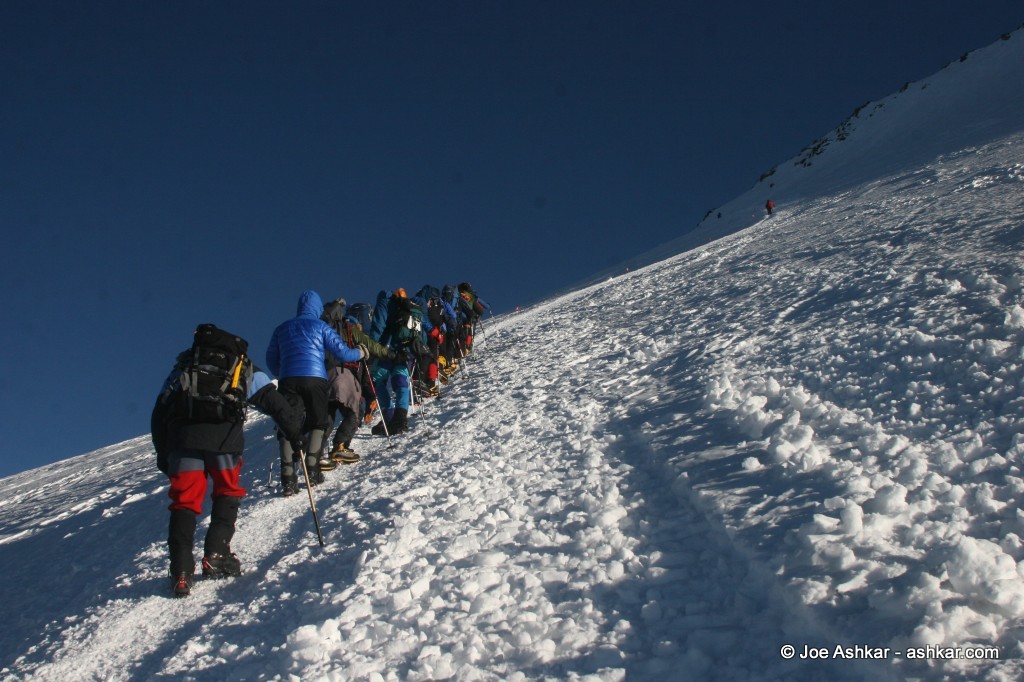 Roughly two hours later, we took another brief rest break to prepare us for the final push to the summit.
Finally, after more than 8 hours of arduous climbing, we reached our goal by standing on the Summit of Mt. Elbrus and the roof of Europe at an altitude of 18,510ft/5642m.
Thanks in large part to our marvelous guides Vern Tejas, Carol Tejas and Nikolay Cherny, every member of the Mountain Czars successfully made it to the Summit.
Next Post: Elbrus Summit Celebrations!!!
Previous Post: Elbrus Day 8 – Monday July 16, 2012