Elbrus Day 6 – Saturday July 14, 2012
Happy Bastille Day! We packed our gear early this morning and left the friendly confines of our Alpine Hotel in Azau to move into our Elbrus Base Camp at 12,500ft/3810m above sea level. It was beautiful day for acclimatization combined with excellent weather and picturesque views of the Caucasus Mountain Range.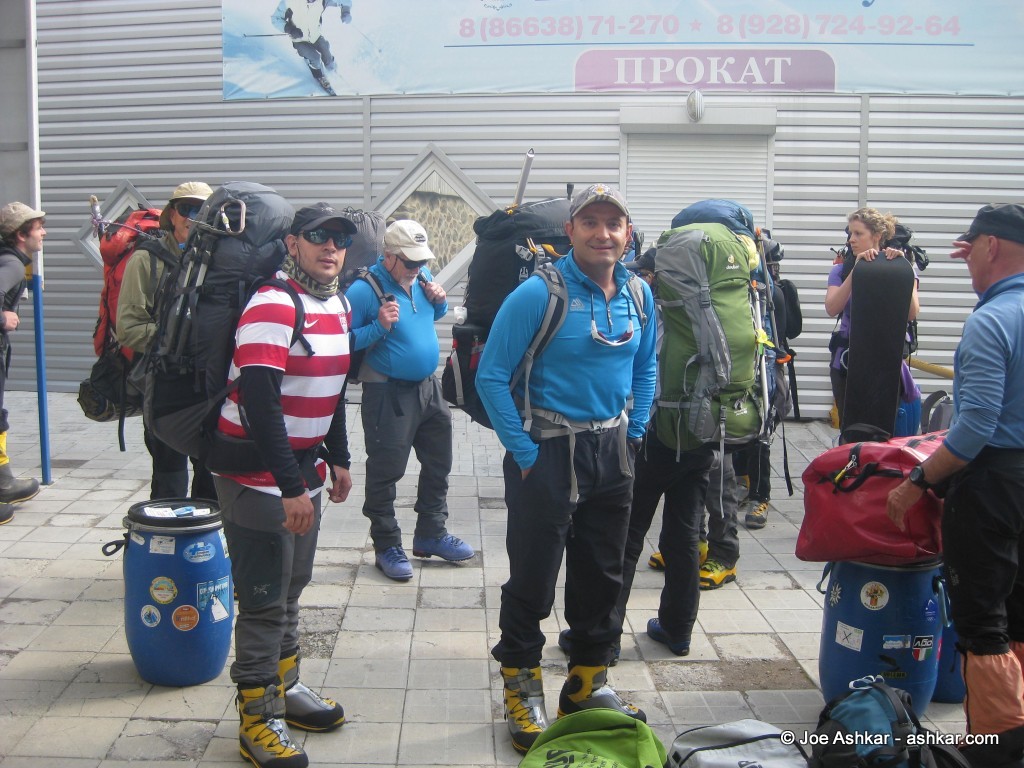 On our way up the mountain, we passed the famed Russian Barrels that house climbers on the mountain. Luckyly, we setup camp in the newer huts at 500ft above the Barrels and slighly below the Priut 11 hut.
Once we settled into our new Base Camp, unpacked and grabbed a quick lunch, we reviewed roped glacier travel skills and headed out on a very eventful acclimatization hike around the glacier. We were divided into 4 groups of 3 climbers per rope. After negotiating a a real nasty large crevasse, Mike discovered a smaller by spontaneously falling into it waist deep, no real danger as he was tied to the rope but again a few minutes later, he discovered another one in similar fashion.
In a matter of minutes, storm clounds moved in and a big thunderstorm accompanied by wet flurries hit us upon our steep climb back to base camp. We all got back into our huts just in time without any further incidents.
We all hung out and enjoyed a nice dinner before we called it a night. Tomorrow we climb up to above sea level to Pastukov Rocks on our final long acclimatization hike before our summit bid.
Next Post: Elbrus Day 7 – Sunday July 15, 2012
Previous Post: Elbrus Expedition Tracking