Elbrus Day 1 – Monday July 9, 2012
A big hello from St. Petersburg in Russia as our Elbrus expedition is officially underway to climb the highest mountain in Europe. After a long journey with a few delays, our team is fully assembled as all members have safely arrived in town. Although most team members flew in from the USA, we had two members join us from Canada and one from as far as Tasmania (Australia). Guiding and climbing with us are Vern Tejas and Carol Tejas. After checking into our hotel and a brief introduction, we were treated to a nice dinner of Beef Stroganov along with a Russian salad and capped off by a rich dessert. We seem to have a fun team with a very interesting background. After dinner, we walked around for a few minutes and checked out an exhibition in the town center showcasing many bear statues each representing a different country, there were over 100 bears.
One tidbit about St. Petersburg: the city is as far north as Helsinki (Finland) and it doesn't get dark until after midnight. Lots of daylight in the summer time.
We are working on a team name and we should have that for you in tomorrow's blog posting. Everyone's really tired from all the travel so we get to sleep in a little bit before gathering at 10 AM tomorrow morning for a full day of sightseeing picturesque city of St. Petersburg.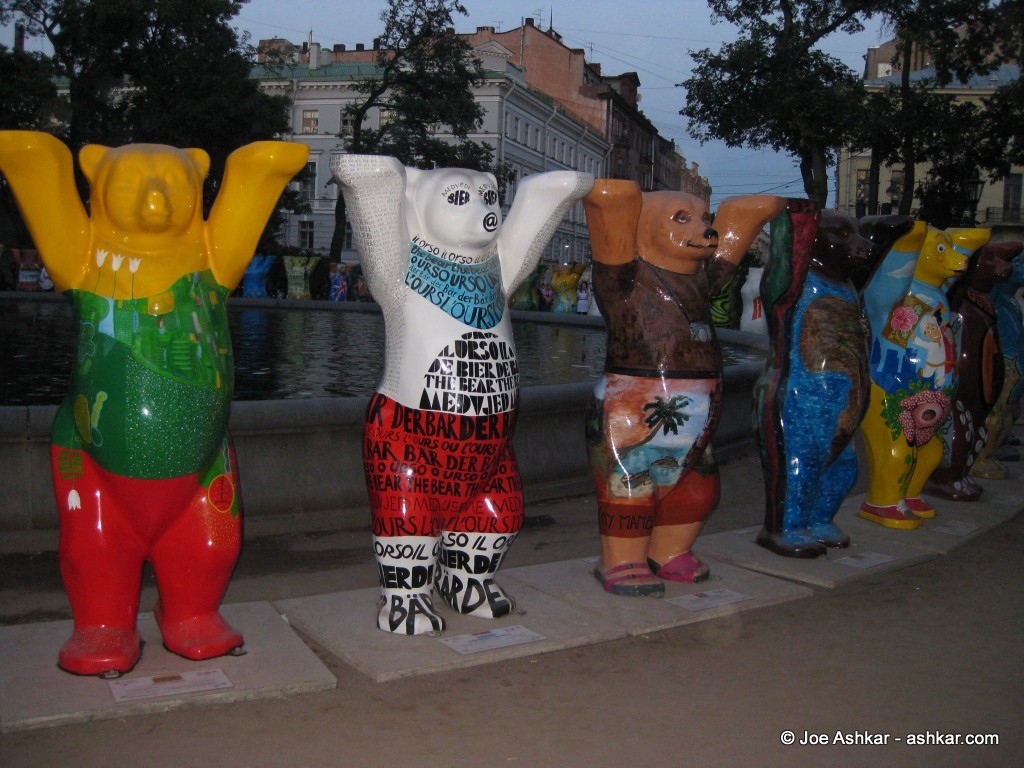 Next Post: Elbrus Day 2 – Tuesday July 10, 2012
Previous Post: Gear for Elbrus